Skip to Content
Los Angeles, CA Trusts Our Curb and Gutter Services
ASAP Paving has Los Angeles and Orange County, California's favorite curb and gutter experts. It can be hard to know who you can trust when it's time to get your curb or gutter replaced. Our team has been replacing and installing curbs and gutters for over forty years. With our experienced professionals, you can rest well knowing we will install your curb or gutter with detailed craftsmanship and an understanding of drainage engineering. Whether you need a decaying curb replaced or a new curb installed, we can handle any commercial or residential job. Don't get stuck with an inexperienced contractor.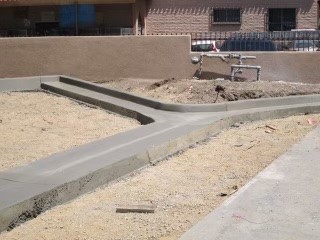 Curb and Gutter Replacement Is Made Easy at ASAP Paving
The process of a curb or gutter replacement is made simple and understandable with ASAP Paving. A member of our team will come to the site and assess the curb or gutter that needs to be replaced or the site where the new curb needs installing. Then, we will provide you with a free estimate and create a work plan with you. Once you have approved the work, our team will tear out the old curb and handcraft the new concrete section, ensuring sharp edges and proper drainage. We make replacing or installing a curb or gutter that easy.
Our Curbs and Gutters Are Built to Last
The curbs and gutters that ASAP Paving replaces and installs are built to last. Whether it's a commercial or residential project, our curb and gutter work is done with a particular focus on durability. Curbs protect your property from flooding water and careless drivers. Gutters protect the rest of your paving from pools of water caused by an improper watershed. Both curbs and gutters take a lot of damage, so they need to be resilient. The curbs and gutters we install are designed to last. Our craftsmanship and high-quality materials ensure our curbs and gutters will endure.
Request Your Free Estimate Today