Skip to Content
Revive Old Paving With an Asphalt Overlay in Los Angeles, CA
If your concrete or asphalt is starting to crack and looks like it will fall apart, Los Angeles and Orange County, California's ASAP Paving have asphalt overlay services that can make your old pavement look like new. Completely removing and replacing a large section of pavement can be expensive and is often not necessary. Our team can lay a new layer of asphalt over your old pavement instead. We can also grind the old pavement down to make the new layer of asphalt level with everything around it. We do overlays on asphalt or concrete, although overlays on concrete come with some extra complications. Freshen up your old, beaten-up surfaces with an asphalt overlay.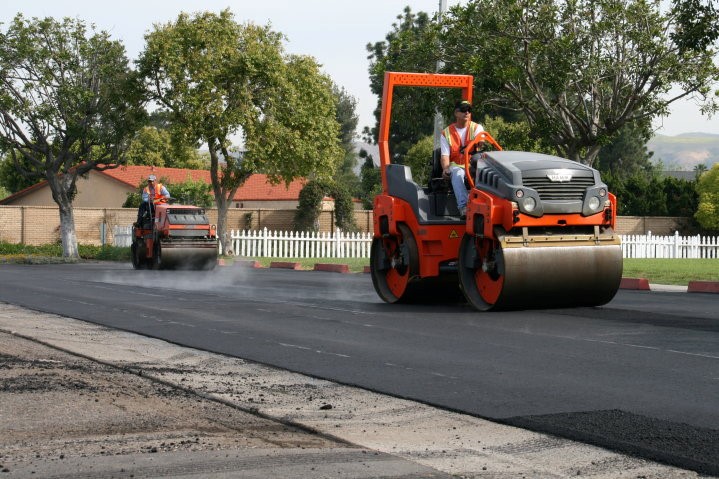 ASAP Paving's Proven Asphalt Overlay Process
There are specific steps to a high-quality asphalt overlay that we follow at ASAP Paving. First, we start by assessing the existing surface. This assessment will determine the best type of overlay, whether milling the existing surface will be necessary, and the drainage implications. Once we understand the paved area, we will grind down the previous surface when needed. This technique allows the overlay to be level with the surrounding pavement and textures the existing surface to allow the two surfaces to bind better. At this point, we will perform any base repairs that might be necessary, like filling potholes or cracks. Finally, we can lay down one to two inches of new asphalt, making it look brand new.
We Do Asphalt Overlays on Crumbling Surfaces With Petromat
When surfaces are particularly damaged and distressed, they may act as a poor foundation for a traditional asphalt overlay. Petromat overlays are often the best choice for these situations. ASAP Paving can stabilize the existing surface with a Petromat overlay that will make crumbling pavement sections look fresh. In a Petromat overlay, a layer of fabric is applied to the existing surface to make a sturdy foundation. This thin, industrial-strength fabric creates a waterproof shield that protects the sub-layer from rain and oil. Once we have the Petromat material placed, we can perform a standard asphalt overlay. This way, even the most damaged pavement can avoid needing a complete removal and replacement.
Request Your Free Estimate Today